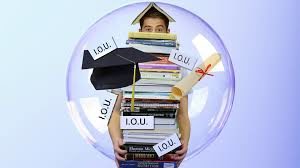 While on the campaign trail in an October 2016 appearance at a Columbus Ohio event, Donald Trump made an announcement about college loan debt. "Students should not be asked to pay more on the debt than they can afford … and the debt should not be an albatross around their necks for the rest of their lives.".
If Trump follows up with making student loans more affordable, it would provide an improvement to the student debt problem that is putting many graduates into financial hardship, with some registering for debt settlement and others filing for bankruptcy.
Let's take a look and see how this will work:
Change of Chiefs
Trump wants private lenders to play a greater role in providing student loans than the federal government, who is currently the major lending institution to college students. Ironically, Sally Mae, a private sector lender saw its stock zoom by 70% since the November 8th election.
Although Trump feels that this is a good idea, moving to private lenders would require more scrutiny. Just recently, the largest provider of student loans, Navient, was sued by the federal government, along with two states.
Income-Driven Repayment
Trump wants to cap repayment of the loans at 12.5% of a borrower's discretionary income and student loan debt would be forgiven after 15 years. That is five years earlier than the current REPAYE options and a better program than former President Obama's repayment program, which requires students pay 10% of their annual income for up to 25 years. Doing the math, a program that offers 12.5% over 15 years is better than one that offers 10% over 25 years. But it is more than just money. It is building a better lifestyle for students after they graduate, because some people have to adjust for these payments, thereby putting off buying the house of their dreams or the car they were waiting to buy. Worse, some even put off having a family because of the high debt that will accrue.
Just think, if you are burdened with paying back a loan for the next 25 years, but then find out it will all be paid up in 15 years, that might just put a smile on your face.