If you have taken out a student loan, chances are you have used one of the integral services that work between you and the bank. They act as a kind of liaison that manages the loan and process your monthly payments.
One of these services is called Navient, which is the largest one, has been accused of failing to act on complaints, with allegations that they have been providing mis-information and processing payments incorrectly. This is something that the federal government doesn't take lightly and subsequently, the government's Consumer Financial Protection Bureau (CFPB) has filed a multi-million dollar lawsuit against them.
Based upon a September 2015 CFPB report cited alarming servicing failures by noting the complaints from borrowers. The report indicated a major flaw in payment processing, resulting in lost paperwork. misapplied payments, unexpected late fees, processing delays in documentation and attempts to resolve account errors. In addition, there were complaints of  difficulties regarding alternative repayment plans.
Consequently, student loan borrowers were subjected to the dangers of higher interest rates,  adequately termed "payment shock" and consequently, potential damage to their credit ranking.
How Widespread is this Problem?
According to Rohit Chopra, a former CFPB assistant director, it is estimated that every 28 seconds someone will default on a student loan in the U.S. and one in four student loan borrowers fall into delinquency, a problem the CFPB has attributed to possible failures of the loan service companies..
Chopra also stated that call center employees of these services many times rush borrowers off the phone without giving them the opportunity to remedy the situation.
What are the Statistics?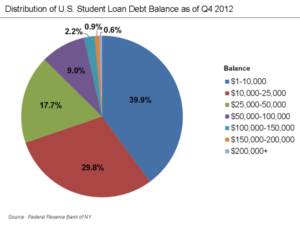 CFPB statistics show that there are 44 million student debt holders, which totals approximately $1.4 trillion. Eight million are in default, totaling $130 billion. This student loan infograph provides some compelling information and raises concerns that those who have student loans will be delayed in acquiring such valued commodities as a car or a house and ironically, limits them as parents to save for their children's college education. 
Although the lawsuit is in process, Navient is rejecting all the CFPB's charges; however, if you have a federal student loan, you should make every attempt to make payment regularly and stay on top of the current Navient issue so that you are not subjected to any surprises in the future.